July 19, 2019
With Libra, Facebook attacks the world of money transfer
A crypto-flash. Eighteen months after setting up a team dedicated to blockchain, Facebook has published this June 18, 2019 the white paper of Libra, its future cryptocurrency, which will be released in the first half of 2020. However, the presentation document provides little news information that the Anglo-Saxon press did not know: it is indeed a stable cryptocurrency and backed by a basket of currencies.
MANY PARTNERSHIPS
Unlike most cryptocurrencies, libra is fully guaranteed by a reserve of real assets (bank deposits and government securities). The libra is based on a private open source blockchain, that is to say that control is held by some actors, unlike public blockchains like Bitcoin, open to all. The 28 names of the first "controllers" of the network were unveiled, but no surprise either.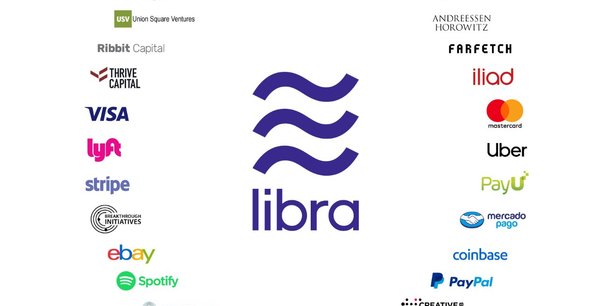 These include Mastercard, PayPal, Uber, Booking or Iliad (only French). Each of them has invested 10 million dollars to be a node of the network and thus to be able to sit in the foundation created in Switzerland by Facebook to manage its cryptocurrency.
On the other hand, one name attracted attention: Calibra. It is in fact a subsidiary created in the biggest secrecy by Facebook and whose mission is to make the link with the foundation. It is also an application that will allow users to buy, sell and store libras. In short, an electronic wallet, compatible with Messenger and WhatsApp, which will be used to make payments between individuals all over the world. The American giant is walking on the flowerbeds of the international money transfer giants Western Union and MoneyGram. A sector booming. In early June, Britain's WorldRemit, for example, raised $ 175 million.
Compete with Western Union and MoneyGram
The social network clearly shows its intention to target the poorly banked populations. A volume market. He cites the latest figures from the World Bank indicating that 1.7 billion adults worldwide are still excluded from the financial system and do not have access to a traditional bank, while a billion of them have a mobile phone.
See Facebook embark on the transfer of money is not a surprise, according to Fabien Aufrechter, head of Havas Blockchain "Today, many consumers who wish to send money to Africa go through the crypto exchanges rather than by Western Union". "We have clients from the African diaspora who use bitcoin, which is difficult to quantify but it does exist," confirms Manuel Valente, managing director of crypto broker Coinhouse. High-inflation countries such as Venezuela (+130 060% in 2018) also recorded a sharp rise in the use of bitcoin.
The future cryptocurrency of Facebook also has something to jostle the actors of the payment between individuals, which certainly are free, but whose users are followers of the social networks of Facebook. "If I were Lydia, I would be worried," says Manuel Valente. The main interested, Cyril Chiche, boss of the French fintech, is meanwhile dubitative. "I do not know if it will compete with us, I think libra will rather compete with the states," he says.