June 22, 2019
Wirex: A Visa Credit Card for Cryptocurrencies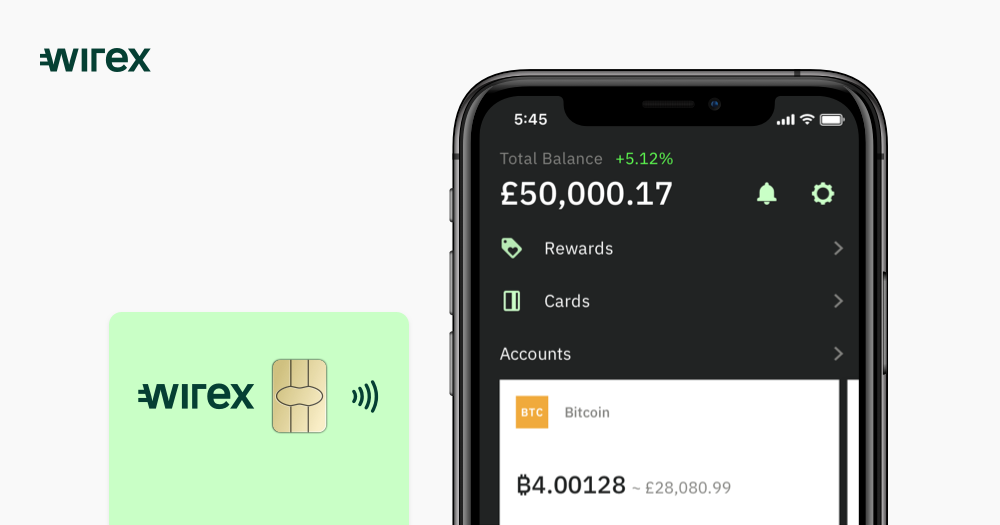 At the end of the twentieth century, online banks came to disturb the soft existence of traditional banks, BNP Paribas, Societe Generale et al. The Fortuneo, Hello Bank and other ING Direct were, however, nerdy by the N26 / Revolut storms and their promises of absolute reactivity. In the vein of these two pioneers, we are now studying the Wirex case.
British start-up, Wirex was born in February 2016 from the E-Coin service. Its stated goal is to offer the services of a classic bank by combining a dose of cryptocurrency to bridge the two worlds of finance. Although the beginnings were complicated, in August Wirex received an e-money license from the Financial Conduct Authority, the UK equivalent of the French Financial Markets Authority. A proof of the seriousness of the company.
What services to expect?
Before you start opening a Wirex account, you probably want to know more about the offer of the UK company. It should be noted that Wirex operates as an ordinary bank account in the sense that it is possible to store money there, to make payments, to make interbank transfers. The question of the fees in the account is a little more complex and we will have the opportunity to come back to it. Be aware, however, that if the VISA card is not exactly free, it offers a key feature in the proposal Wirex: a cash-back on your purchases, or 0.5% of the amount spent will come back to you in the form of Bitcoins.
Finally, Wirex is distinguished by its multi-monetary side. On a single account, we manage both classic fiduciary money and cryptocurrencies. Of course not all are taken into account, but the interest of Wirex is to allow conversions with minimum fees while acting Bitcoin wallet, Ethereum, Litecoin …
In fact, Wirex allows you to spend your cryptos in any store that accepts the VISA card without worrying about the status of your favorite crypto in that shop. Wirex is responsible for the conversion. Be careful though, it's not free, but we'll come back to that too.
Beware of incidentals
Like the majority of online banks, Wirex ensures that it offers services at unbeatable rates. It is also true that the holding of a Wirex account does not cost a dime to the user, and better, it is also not mandatory to perform a number of monthly / quarterly transactions to keep this free.
However, beware, if the question of the VISA card with cash-back was your main motivator to open a Wirex, you should know that the card is not really free. Indeed, its issue will cost you nothing, but then it must be £ 1.00 / € 1.20 / $ 1.50 per month depending on the preferred currency in your account. This rate is incompressible and dissociated from any use of said card.
Always in the area of ​​small fees that we do not think: SEPA transfers are free, but the issuance of SWIFT transfers is charged £ 12 / € 13. Finally, and this is where Wirex loses points: the use of ATMs is not free. Note in the first place the limitation to 250 € monthly, but it is obviously the billing of 1.50 £ / 2.00 € / 2.50 $ which annoys. Internationally, these fees even go up to £ 2.00 / € 2.50 / $ 3.00. Let it be said, this VISA card is mostly made to pay in stores to take advantage of cash-back.
Low Exchange Rates
Wirex's other main argument concerns its cryptocurrency wallet side and the simplicity of the conversion. Basically, a Wirex account manages three fiduciary currencies: the Euro, the British Pound and the US Dollar. One of them is called "reference" and it is she who is active in priority. In addition to this, Wirex manages a large number of cryptocurrencies: Bitcoin, Ethereum, Dai, Litecoin, Nano, Waves, Wollo and XRP.
Your Wirex account also acts as a crypto wallet in which you can store all the currencies mentioned above. Better, you can easily convert your money between all! Handling is a breeze from the app that gives you all the information related to the transaction. Where things get very interesting is that Wirex has some of the lowest conversion rates on the market. Be careful, this is not as direct as in Revolut where everything is instantaneous.
To watch closely
In principle, Wirex seems to respond to many requests from cryptocurrency users. Via its VISA card, the company offers in particular a simple and effective way to use its cryptos, and this, while the vast majority of shops is still very reluctant to this idea. The opening of an account is done in a snap of the fingers and the application (tested in Android version) is as reactive as ergonomic. On the other hand, there are still areas of darkness around the Wirex service.
First of all, the customer service sometimes seems to take its time to answer, but it is especially the level of fees that must be paid attention. Account management is absolutely free, but keep in mind that the card has a monthly cost and fees are charged at each conversion. This is not really a surprise, but we regret that Wirex is more specific about the amount of these fees. A practical tool therefore, clearly looking to the future, but to use with caution despite everything.