January 3, 2020
Samsung and LG to unveil AI-powered refrigerators.
On the occasion of CES, which begins on January 7 in Las Vegas, Samsung and LG will present a new version of their refrigerators, Family Hub and InstaView ThinQ, whose capacities in terms of artificial intelligence should be increased.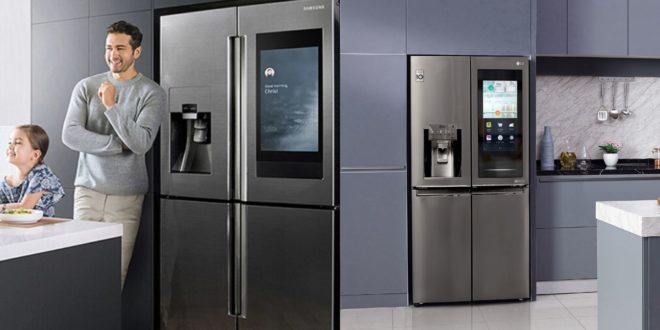 A few days before CES, manufacturers are unveiling some innovations … with technologies that sometimes seem very close. Korean and rival companies Samsung and LG are betting on connected cooking again this year. After LG's announcement of a smart indoor vegetable patch, the company confirms this strategic focus by revealing a new version of its ultra-connected refrigerator on January 2. This second-generation InstaView ThinQ refrigerator incorporates artificial intelligence cameras capable of identifying food. Foods placed inside or removed from the refrigerator are identified in real time.
VIEWINSIDE TECHNOLOGY AT THE HEART OF VISUAL RECOGNITION
Samsung will present the latest edition of its Family Hub refrigerator with a similar objective: to provide technology that can scan food stored inside to inform consumers of missing products and make recommendations and recipes based on them. food available. Introduced for the first time in 2016, Family Hub has since benefited from various innovations, such as the implementation of Bixby, SmartThings and AKG speakers. The latest edition adds software upgrades to enable image recognition via ViewInside technology.
It is not known whether these technologies are capable of identifying and categorizing products enclosed in containers other than their packaging. The CES will be the opportunity to attend demonstrations to test these innovations, or even to announce new partnerships with food distributors. Other new developments around the smart home should also be announced during the high-tech mass in Las Vegas.