July 16, 2019
Raspberry Pi 4: the nano-computer is full of power
More powerful processor, 4K compatibility, Gigabit Ethernet: the new version of the Raspberry miniature computer is perfectly up to date. Raspberry Pi had promised in late 2018: the foundation has kept its promise. It has just presented the new version of its miniature computer at a low price, the Raspberry Pi 4. And the least we can say is that the leap forward is spectacular!
For starters, the Raspberry Pi 4 takes advantage of a new processor – more exactly, a new SoC, a component that brings together multiple elements in the same integrated circuit – in this case, a Broadcom BCM2711 with four 64-bit cores clocked at 1.5 GHz. Using a Cortex-A72 ARM architecture, this chip is significantly more powerful than the 1.4 GHz Cortex-A53 Soc used in the third generation of Raspberry Pi, for example, by being able to encode video in H.265: an operation particularly greedy in calculations.
RAM
That's not all. The Raspberry Pi 4 also uses the latest generation of fast memory, LPDDR4 type. Better yet, while the Ram was imitated to 1 GB on the Raspberry Pi 3, we can have 2 or even 4 GB on the Raspberry Pi 4! This is enough to run a more advanced operating system, and more demanding applications, while processing more data.
Connectors
In the chapter on external communication, the Raspberry Pi 4 features a Gigabit Ethernet interface, capable of transferring data at 1 Gbit / s. This is significantly better than the old Ethernet Over USB interface that did not exceed 300 Mbit / s. In the same vein, in addition to the classic Wi-Fi 802.11ac, the Raspberry Pi 4 has Bluetooth version 5.0, with again a higher speed. And it is equipped as standard with two USB 3.0 sockets, in addition to two USB 2.0 sockets. What ensure fast exchanges with all kinds of devices. It even has a USB-C plug, but that is only for power supply.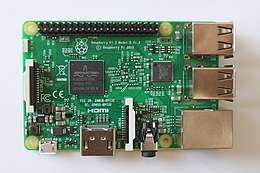 Multi-Screen
The Raspberry Pi 4 is also making serious progress on the video side. In fact the traditional HDMI interface disappears in favor of two taken micro-HDMI format, allowing to simultaneously connect two screens. Above all, they are 4K compatible, at 60 frames per second, especially since they are driven by a VideoCore VI, a graphics processor capable of natively decoding HEVC in ultra high definition.

It is easy to imagine, all these novelties and this extra power of power should allow the Raspberry Pi to change category, coming almost compete with "real" computers. What give birth to applications and editing much more ambitious. Especially as, icing on the cake, the Raspberry Pi 4 is sold at the same tiny price as its predecessor: less than 40 euros for the 1 GB version, about 50 euros for the 2 GB and just 60 euros for the 4 GB A small wonder accessible to all who is likely to make a lot of noise. Thank you Raspberry!